Romney
A traditional country-style two-bedroom stone house that is the perfect place to call home. Its warm and cosy rooms are welcoming, spacious and comfortable.
We've decorated Romney in autumnal colours and its pictures, sculpture and china feature pheasants, partridges and dogs.  The Chalon kitchen and racing green AGA epitomise the classic country kitchen and there's nothing better to come home to than its grand stone fireplace.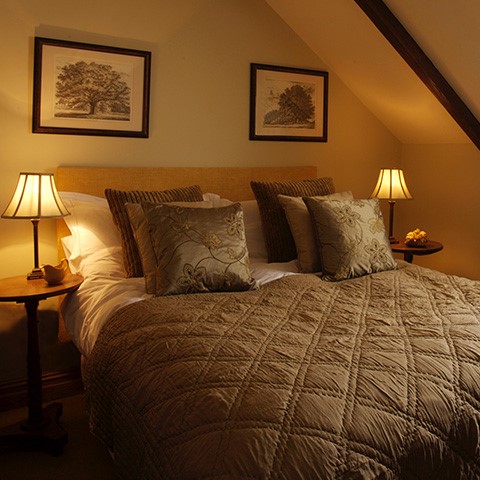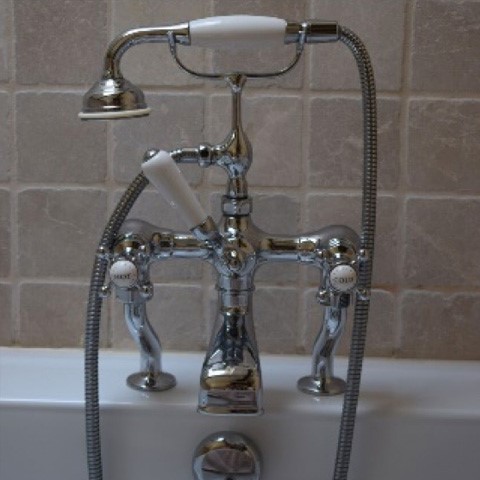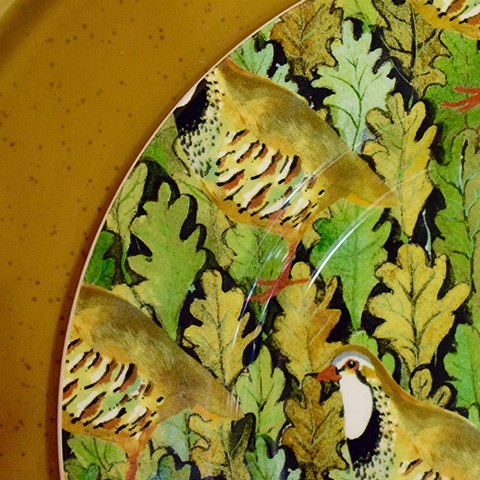 Features
Kitchen/sitting/dining room
Double bedroom
Single bedroom
Bathroom
Terrace garden
Parking space
Amenities
Aga gas cast-iron fire
Chalon kitchen
Gas Aga oven
French china, and glassware, cutlery and linen
Dishwasher
Washer/dryer
Fridge/freezer
Broadband
Cafetière
Iron and ironing board
Sheets
Towels
TV/DVD/Freeview
Roberts radio/iPod dock
Hairdryer
Garden table and chairs
Barbecue
Cleaning products
Weekly cleaning service
Testimonials
I enjoyed my stay here. This property (Fenton) is very special. Never been to one like this.
Allison Pond
"We have thoroughly enjoyed our stay at Aragon House which is perfectly situated a few minutes' walk to the charming town centre of Oundle.  The house is full of character and is decorated beautifully in warm colours.  The bedrooms have lovely high quality linen, which is a spoil! We have particularly enjoyed the kitchen which has a big gas oven and the open plan design lends itself to sociable and fun times. The view out of all the windows is charming. … I would recommend Aragon House for short or long term stays, the owners have been very attentive and we have felt quite at home!"
Sarah, South Africa
"The Stables is a home from home. It is perfectly positioned: right in the middle of Oundle and yet secluded and quiet. It is spacious and comfortable: perfect for one or two people. I have loved spending time here."
Rupert
"Chic, cosy and comfortable cottage-style accommodation at Romney - a lovely place to stay."
Ian and Ruth, UK
"We rented Whitwell's Lodge, where we stayed for about six months. It is extremely well located right in the town centre in an attractive area and with private car parking. The real impact, however, is the interior where the furnishings and décor display taste and elegance."
James, UK
"My husband and I spent two months at Oundle Bespoke Apartments while relocating overseas from the US. We were absolutely delighted with the accommodations and the surrounding area. The apartments are expertly decorated and meticulously maintained… comfortable, beautifully themed décor, attention to detail beyond expectations. Everything you need to make a long or short stay seamless and pleasurable. Five stars!"
Melissa, USA
"Just as disaster struck – flooded out of our home, we were extremely fortunate to find Oundle Bespoke Apartments.  In total we were out of our property for seven months and Oundle Bespoke Apartments were truly marvellous in ensuring we had one place to stay until we could move back home. The apartment was ideally situated right in the centre of Oundle. Truly luxurious, clean and very comfortable. 10 out of 10 for Oundle Bespoke Apartments."
Vanessa, UK
"We have been using the Oundle Bespoke Apartments for seven years now and have always been delighted with the level of service and comfort that they provide beyond anything else available, and only a short walk from all the boarding houses and offices of Oundle School. It is a real home from home, allowing a much more relaxed and luxurious weekend - rather than making do with hotel rooms. I have no hesitation in warmly recommending the apartments to anyone with a weekend to spend in Oundle."
Sandy, UK
Dreamy and beautiful – I love how each apartment differs. I've stayed in a few of them. This one was absolutely beautiful and I would live here if I could!
Michelle
I wish I could live there. I love everything about it. It was stylishly decorated. I had everything I needed. It was close to everything.
Gb
I have greatly enjoyed my stay her in Oundle! I especially enjoyed the AGA oven, the toasty fireplace, and the lovely garden!
Anna Pope